My life is whirlwind. Hands down, no other way to describe it. It's not all that orderly, even when I give my best effort to stick to a schedule.
If I'm not working on a new project, I'm flying across the country for a speaking engagement. If I'm not traveling, I'm answering emails, working on taxes creating new content, communicating with my team, signing contracts, and more. And when I'm not doing any of those things, I'm tending to the chores around my house, running errands, squeezing in a date night with my husband, and preparing for our next potential move.
Maybe you're a busy bee, too. Maybe your schedule is so bogged down with meetings, classes, phone calls, homework, errands and appointments (oh, and squeeze in a social life and family, too) that it feels like the only way to make time for God is to add a 25th hour to your day.
Tell me if this has ever happened to you:
You manage to wake up thirty minutes early to squeeze in that much needed quiet time with God. SCORE! Off to a great start, right? You sift through a passage, throw back a big gulp of coffee, jot down some notes and personal prayers in your journal, bow your head, say Amen, and bolt into the demands of the day. By noon, your heart seems to lose the peace it had rested in just hours earlier and by evening time, you seem to have forgotten all the goodness that your soul soaked up over coffee this morning. And you find yourself wondering…did that even accomplish anything? Did I really allow Truth to transcend my day? Or did I just check it off the t0-do list?
OR…
You don't manage to get up early in the middle of a busy week.Your body is beat and your brain is fried. You completely miss quiet time and roll out of bed with just enough time to pop a bagel in the toaster and zip out the door. Your schedule is packed and you nearly suffocate beneath the weight of the world's demands. As the days continue, you feel disconnected and wonder something like…Do I really know God like I want to? Am I even a decent Christian?
If these situations resonate with you, if they seem to be the story of your life lately, you're not alone. So let's talk and see what we can do about it.
Let me just say that I do not know anyone that is a 24-hour Bible reading machine with a soul constantly saturated in Truth, never walking through deserts or dry times–at least, no one that's honest about it. If you've met someone who claims to be like that, I'd like to meet them and maybe even test if they're a robot because we all become selfish with our time and distracted by the demands of the day sometimes. We all walk through deserts.
I've learned to do all I can to get up a little earlier or do what it takes to spend a few minutes in the Word each day. But sometimes I oversleep and other times my phone dings and…
SQUIRREL!
There goes my attention and by the time I refocus, it's time to get started on the day's tasks. I've royally blown it…again.
So what's a girl to do?
In addition to setting six more alarms and leaving our phone on silent, I think we ultimately need to re-evaluate our understanding of time and how it is to be used.
To be real, the idea of making time for God freaks me out because it seems impossible. I don't even want to try. It makes me feel like a bad Christian because I know I don't always carve out enough time for underlining verses or journaling during quiet time each day.
There have been times where I don't dig in at all for days or weeks on end. I know I'm not always on my A-game and quite frankly, sometimes I don't know how to make more time. I physically cannot — that is, when I look at time as something to seize rather than sacrifice.
Ann Voskamp's words reverberate, "For Jesus, time was not something to seize but something to sacrifice…it's not something to grab; it's something to give…the way to break time's hold on me is to be broken and given with my time."
God doesn't need us to make time for Him. He created time, just enough of it, and gifted it to us. Our time is His already, we don't need to make more of it. We're all given the same 24 hours in a day. It all depends on what we do with it – will we grip it or give it?
I've noticed that even when I consistently exercise discipline and dive into the Word daily, sometimes I forget step three. Here's what I mean:
I learn the Word by reading the Word (step one).
I believe the Word (step two).
Sometimes I fail to LIVE the Word (step three)
James 1:22 tells us to be doers of the Word. That means we can't just carve out a special hour, read it, write it down, take pictures of it, post them on Instagram, and expect to experience the fullness of faith.
We have to give way to living it. We have to let ourselves live it in the very time we've been given. We have to put it into action – to sacrifice time instead of trying to seize it.
If I'm wrapped up in seizing time, in penciling in an hour with God when he already owns all the hours, then regardless of how many minutes I log in the Bible each day, it will be fruitless because my personal priorities sneak their way onto the throne of my heart, gobbling up all the time and attention I have to give.
CS Lewis wrecks me with these words, "Christ says, 'Give me All. I don't want so much of your time and so much of your money and so much of your work; I want YOU."
God doesn't want your resume or all the hours you spend building it, He wants YOU.
Click To Tweet
So then, we need to give Him all of us. We need to bring Him into and give Him every moment of the time He has gifted to us.
We limit our relationship with Him when we box it up into formal quiet time. It's as if we're afraid of letting our whole selves, our entire lives –every minute and every hour — be enveloped in the love and power of God. And alas, we resist, believing the lie that we don't have time.
You see, part of the problem is that we tend to shove our relationship with God into it's own separate category instead of letting it permeate every problem and process we walk through. We like to assign it a time slot and nearly clock out when we close the Bible and sip our last dribble of coffee.
We rarely want to think about this, let alone say it out loud. That would make us look like terrible Christians!
But let's just call out the elephant in the room for what it is and recognize the reality that this tends to be a pattern we fall into because it's the pattern of the world we live in: clock in, clock out, order your priorities, categorize your goals. It's how it is.
So I have to shift my thinking and understand that He cares about ALL aspects of my day – long after quiet time ends. He cares about the time I dedicate to my work, my commutes, my conversations, my cooking, my care taking, and more. He wants all of me and giving Him all of me is to include Him in all the things.
I can include Him in the stillness of the morning and the stirring of the day — in the sip of OJ in the morning, in shampooing my hair, in the kisses I steal from my husband, in the conversation with the lady at the bank — when I take on a heart of gratitude, presence, and love.
If I don't, I miss it. I miss the glory of this very moment if I zip through time slots and cross things off lists without a thought. I completely miss it. And so do you.
And that's where the desert comes. That's when we feel our soul shrivel. That's when we begin to feel dry in our bones, drained of faith, and disconnected from our Father.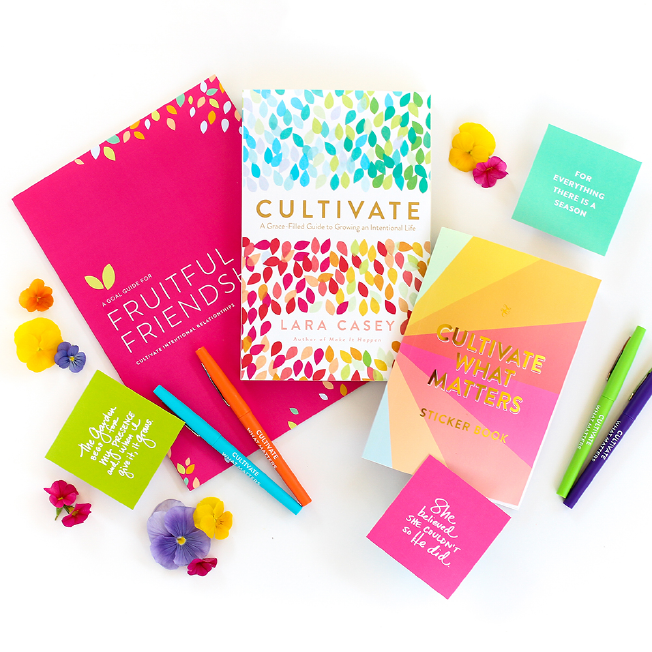 So then, it's not only about sacrificing our time but also about shifting our understanding of what time is and to whom it is owed.
There's a quote that says, Sometimes the most glorifying thing we can do for God is to take a nap.
I don't know about you but my productive nature tends to fight naps. My heart avoids downtime like the plague because I'm afraid to fall behind, to be outdone by someone else while I'm sleeping.
But that struggle reveals the problem rooted in my heart: I believe I don't have enough time for God when I'm fixated on the ways I can win, instead of letting God win my heart.
I believe I don't have enough time for God when I'm fixated on the ways I can win, instead of letting God win my heart.
Click To Tweet
Psalm 4:8 challenges this battle, "In peace I will both lie down and sleep; for you alone, O Lord, make me dwell in safety."
Submitting to that, yielding to that is the only way to yield a fruitful relationship with God. It's not something we clock in and out of, it's something we must learn to weave into all of our ways – our standing up, lying down, rushing and resting.
God isn't just something we put on our schedule, He's the One that should permeate our entire schedule.
God isn't just something we put on our schedule, He's the One that should permeate our entire schedule.
Click To Tweet
You see, we all have time for God because God is in every moment and in every thing. But our relationship with Him won't come alive for us if we limit Him to living in the hour of quiet time we may or may not manage to make time for each day. It comes alive when we actively choose to see Him. It's choosing to spend a few extra minutes listening to someone's heartbreak or pain when the agenda says there's no time for it. It's choosing to share a few encouraging words to the coworker we've never liked on the way to the copy machine. It's going out of our way to be present when we could be doing something seemingly 'more productive' things with our time. It's giving ourselves away in the middle of the madness.
So when you feel like you don't have time to grow closer to God, ask yourself the same questions I have to ask myself when I begin to believe that lie:
Do I give my time away or do I try to grab hold of it and control it?
Do I allow myself to be distracted by God–by the divine appointments He has set up for me? Or do I assign Him an appointment with me, when I think I have time?
Am I trying to make God one of my priorities or am I letting Him be the very thing every other priority pivots around? Does His presence permeate all of my priorities?
Am I letting the Word dictate how I sacrifice the time He has given me or am I letting the world dictate how I seize the time He has given me?

Worship–walking in oneness with God and spending time with Him–is so much more than scheduled study time. Don't get me wrong, I'm not saying not to be intentional or disciplined with this. It is good, even necessary, to set aside time each week to just BE with God and study His Word. However, it's equally necessary to let Him BE in everything, every moment.
Throw on worship music during your workout or while you cook dinner for the fam (or roommates). Shut off the radio and talk to Him in the car when you least feel like it. Take a moment to love someone in the littlest of ways in the middle of your day. Turn your phone off after dinner and honor Him by being present with your people. Go for a walk, climb a mountain, drive out of town. Look for Him — in others, in suffering, in trial, in all things. Make time for giving when you think you don't have time. Make time for loving. Make time for noticing by simply noticing.
Seek in the ordinary and the extraordinary. I promise you'll find Him (Matthew 7:7)
Because growing closer to God isn't a mechanical thing meant to fit your schedule. It's the most meaningful thing meant to free your soul.
Let's learn to live in that.
Spending time with God isn't a mechanical thing meant to fit your schedule. It's the most meaningful thing meant to free your soul.
Click To Tweet